Our fees for a smash & grab are £4,000 plus 5% of any sum claimed over £10,000 up to £100,000 and then 1% for any sum above £100,000 – all plus VAT.  If you decide to instruct us on a "no win no fee" basis the sum payable is as above plus 50%.
The table below gives examples of how the pricing works: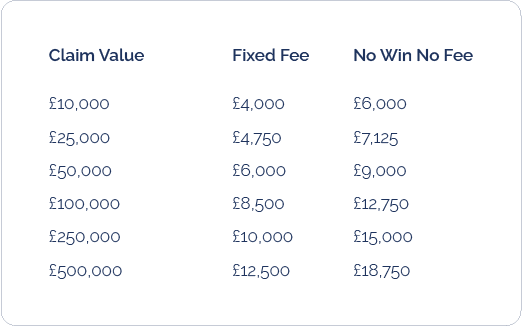 Which adjudication rules you can use and how the fees are calculated will depend on the contract and/or your particular dispute. In some cases the rules will allow for the adjudicator's fees to be fixed or capped. In other cases you will just have to pay the adjudicator's fees and expenses on a reasonable cost basis depending on their time and expenditure. If your dispute and adjudication rules qualify for any of the fixed fee or capped fees schemes, you will have more control on costs and risk. Below are some examples of this kind of scheme – you need to check whether your dispute is eligible before embarking on any particular scheme.
The CIC Low Value Disputes Model Adjudication Procedure (CIC LVD MAP) has been established following the publication of the CIC LVD MAP Procedure (1st Edition) published on 1 May 2020. The CIC LVD MAP complies with the Construction Act and applies to disputes where the total amount claimed is £50,000 or less excluding VAT. Where the parties have a dispute where the claim exceeds £50,000, they may also choose to follow this procedure.
The scheme is beneficial in three ways: (i) it provides for a streamlined procedure which is intended to be uncomplicated; (ii) there is a timetable to manage disputes to minimise unnecessary costs; and (iii) there is certainty as to the adjudicator's fees.
The adjudicator's fees are laid out in Schedule 1 as follows:
An additional fee of £1,000 plus reasonable travel expenses applies where the Adjudicator is requested to meet with the parties or conduct a site visit.
TeCSA
On 21 June 2019, TeCSA launched their own pilot for the Low Value Disputes (LVD) Adjudication Service for claims for payment of up to £100,000 (excluding VAT and interest). From 1 January 2020, the LVD Adjudication Service is fully part of TeCSA's Adjudication Service offering.
Similarly to the CIC LVD MAP the TeCSA LVD Adjudication Service is aimed at giving parties who wish to refer disputes to adjudication certainty as to the costs of the adjudicator. A difference from the CIC LVD MAP is that the TeCSA service only limits the fees which the adjudicator can charge and so it is not necessary for the opposing party to agree to the use of the TeCSA service. TeCSA is therefore available to parties provided that no other adjudicator nominating body is specified in the relevant contract.
The values of the amount being claimed and the adjudicator's fee caps are as follows: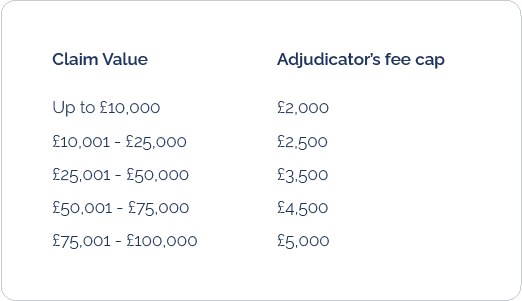 In respect of the TeCSA service, parties will also need to consider whether, the service is appropriate for their dispute. The TeCSA service only applies to claims for a specified amount i.e. a liquidated sum, as between two parties and does not apply to claims where the amount sought has not been quantified e.g. damages or loss and expense to be assessed. The service would also therefore not apply to claims for declarations as to the meaning of contract terms, albeit that it may be necessary under the service when determining a financial claim for the adjudicator to form a view and make a decision on what the contract means.
Please discuss with Helix Law which service is appropriate for your dispute
People frequently tell us that we're approachable and offer great advice.
They also tell us most solicitors are hard to get hold of whereas we're happy to listen. The reason for this is that we value long term relationships and we're happy to speak with business people, to invest our time in understanding your business and whatever your concerns are. Only at that point can we understand whether we're the right people to help you.